We hope you will be staying for a very long time!
On a hillside in the town of Kensington, Prince Edward Island, stands a forbidding mansion. Legend tells of a wealthy English gentleman, known to the locals as Dr. Jack, descending on the unsuspecting farming community in the early 1890's and creating this Tudor style home. Care was taken to recreate the winding streets of London in the old cellar providing an atmosphere of home away from home. As the story goes, he opened a small Inn in the mansion, however many of the guests were reportedly never heard from again. Several notable figures allegedly stayed with the Doctor for an extended period, the most notorious being Lizzy Borden… some swear she still walks the halls! Come for a visit and see for yourself how the legend has grown. You may even live to tell about it! The Doctor may even invite you to become a permanent resident.
PLAYLAND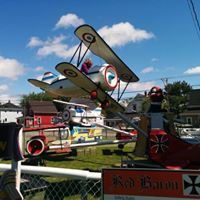 Included in your price of admission is our family orientated Play-land. With classic carnival rides, the secret gardens, farm animals, interactive exhibits, fun-time shooting gallery and much, much, more.
Good for the entire day, you and your family can enjoy and experience The Haunted Mansion and Playland from opening until closing without any additional costs.
For the 2017 season, we will be open from June 10 until September 10 for our regular season.
Prices Adults – $15.00
Seniors – $13.00
Children (6-16 years) – $9.00
Ages 5 and under – FREE!
Prices shown include all taxes.
Hours of Operation June 11 – 30: 10am-5pm July 1 – August 31: 10am-7pm September 1 – 11: 10am-5pm